Like many people, it comforts me to have certain things around me to memorialize my beloved animals who have died: framed photos, photo albums, portraits, memorial candles, urns, grave markers, jewelry with their paw prints or name, scrapbooks or memorial boxes filled with treasured mementos, holding memorial services, sharing stories about my animal, etc. There are, of course, countless, meaningful ways to memorialize a loved one which can bring us comfort and honor our animal. However, nothing is a higher tribute to a loved one who has died than to identify, acknowledge and use the legacies they left behind, the legacies that live on in our hearts.
I don't think I've ever talked with a person who's lost their animal who wouldn't say that the number one legacy from their animal is love. When we think of the legacies of love our animals gave us, it can be healing to reflect on: How that love was expressed or manifested? How was it unique? How was it shared? What did we learn from it, and how can we integrate and apply that learning into the fabric of our lives? Memorializing is comforting, and mourning is normal and necessary. But memorializing is not the same as investing the legacies we've been left so they can grow. If we inherit a million dollars and stash it under our mattress it will not grow. But if we invest it in good works it will grow in ways that may continue to enrich us and others forever.
What is important for our healing is for each of us to discover and cherish the unique legacies left to us, and to use them for the betterment of ourselves and the world around us.
When my cat Muffin died many years ago I was utterly lost in the pain of it. In time, however, when I realized that the legacy left to me was the unconditional love he showered me with, which was my first experience of unconditional love, I knew I had a choice: to be in pain from this huge loss the rest of my life, or, to learn to give myself what he gave me. That is often what keeps us so painfully stuck in our grief–thinking that we can't possibly keep the emotional and energetic gifts we received from our animals after they've died. We can. When I finally realized that it was time for me to learn to give myself what Muffin had given me, I began my journey to learn to love myself. I learned that without him loving me to the depths that he did, I never would have learned that I was lovable. And what a waste it would have been to wallow the rest of my life about the loss of him giving me that love in person, rather than learning how to love myself even as I grieved his physical presence. This did not make my grief go away. I grieved for him for a very, very long time. But it did fill me with a great sense of hope and fulfillment–that I was using what he gave me to grow.
Years later, I experienced another unexpected opportunity to identify and use a legacy left to me. On one of my whale swim trips we came across a month old humpback calf who was tortuously entangled in fishing gear–float line embedded deeply into his flesh and through his mouth, and trailing 150 feet of line and two huge fishing traps. For four hours a captain than a dive master valiantly tried to free him of this but was only able to cut off the trailing lines and the traps. This weak calf, whom we call Little One, died ten days later. Witnessing this, both physically and in my ongoing conversations with Little One and his deeply grieving mother over time, rocked me to my core. I knew that I could no longer simply enjoy the spiritual high of being with these beloved humpbacks. I needed now to speak out for them about how supporting commercial fishing–i.e. eating any type of fish–not only litters the oceans but causes the slow, tortuous death of whales, dolphins and other marine animals. This little whale left me the legacy that loving in good times is not enough, that when I love, I need to be willing to speak up on behalf of those I love, whether speaking the truth is popular or not. I have found that it was a lot easier to just love the whales and let the activism to others. But I cannot not speak the truth after what I witnessed. This is Little One's legacy to me.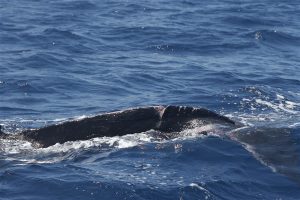 © Jodi Frediani
The choices I have made to use the legacies left to me are my personal examples. They may or may not be choices others would make. What is important for our healing is for each of us to discover and cherish the unique legacies left to us, and to use them for the betterment of ourselves and the world around us. What better way could we honor the animals who have brought us so much love than to invest their legacies?
Healing Exercise:
Defining "legacies" as:
Gifts we've received from an animal, things we've learned about ourselves, about relationships, about life, about death, about our beliefs, about who we are, about who we want to be as a result of a relationship with an animal.
Read through the following questions, then close you eyes, go to a peaceful place in your mind and the deepest part of your heart where your love for animals resides, and allow the answers to come:
• Think of an animal with whom you have shared a meaningful life, or an animal–domestic or wild–with whom you've had a profound encounter. Gently go the place in your heart where you remember, where you again feel, the love and energy that was shared

• What legacies have I received from the life I shared with this animal, or from a profound encounter with an animal?
What did they teach me?  What did they leave me?
• What gifts or legacies, if any, did I receive from the experience of the loss itself?
• What legacy have I received from the death of any wild animal?
• How can you I these to enrich my soul and my life on earth?
The "answers" may not come immediately, or all at once. They may come more slowly, entering our consciousness with great clarity when we are most ready to hear them.